Beijing Xinertel Technology Co., Limited (aka Xinertel), 6 May 2023
Xinertel Announces to Discontinue the Benchmark Branding
Xinertel will discontinue the branding of Benchmark for her L2-L7 test equipment with immediate effect to reflect solidarity and growth in recent years.
Henceforth, Benchmark-XP series shall be known as DarYu and Benchmark-DVT series shall be known as BigTao globally, otherwise nothing has changed. We remain steadfast in our product development, ardent support and commitment to customers everywhere.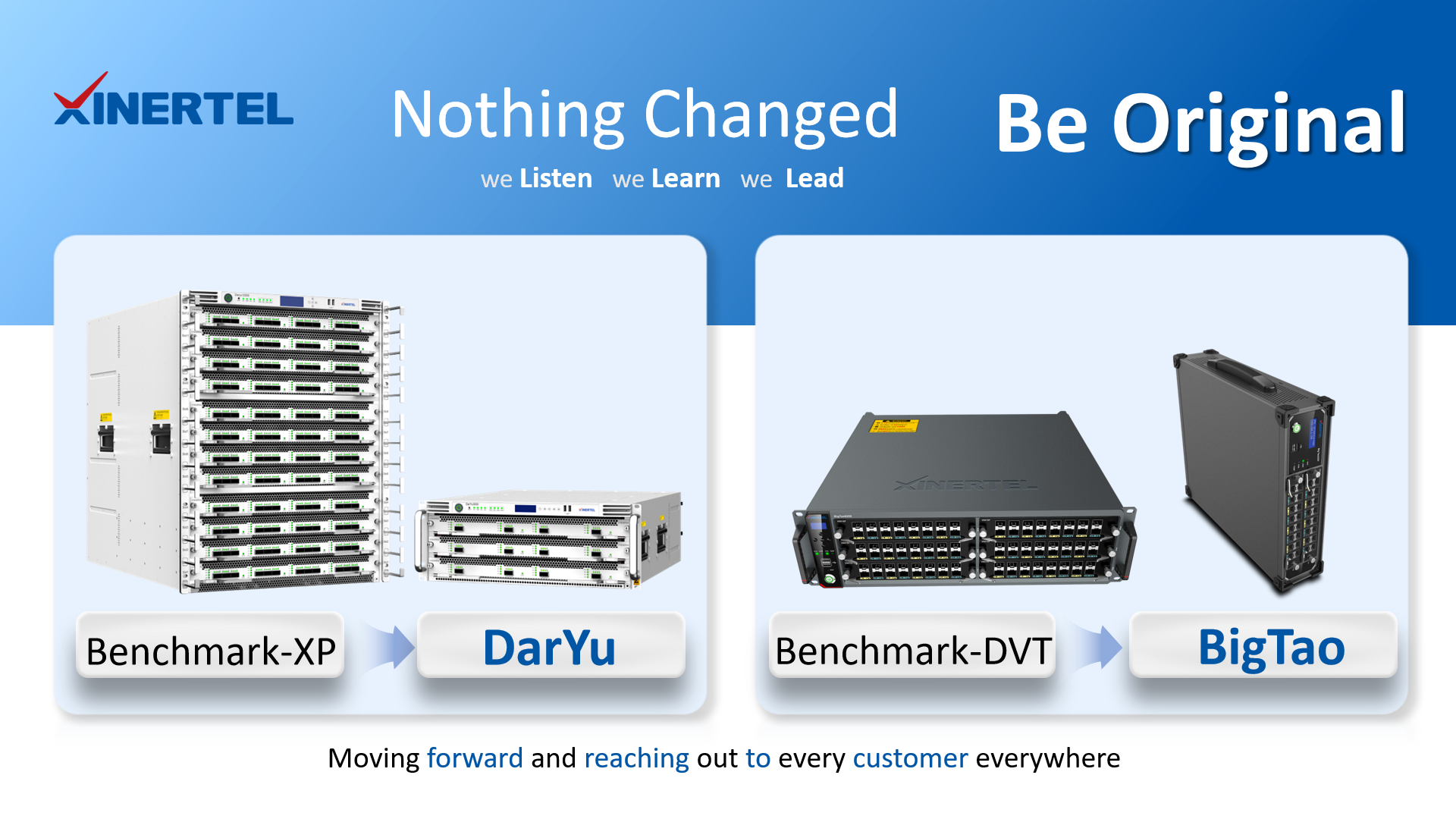 Xinertel, headquartered in Beijing, was established in 2007 as a leading L2-L7 network communication testing technology enterprise, and provides the most cost-effective solutions and excellent professional services. Over the past year, the company has developed a network of local and global partners, and continues to upkeep the quality of all products, and provides reliable service without compromise.

"We keep our originality and trust our brand represents where the company is going, and where it has been. Our brand inspires loyalty and makes employees' jobs easier everywhere in the world. It is just the start of a long journey ahead; we will get to the end together always!" said Director of Business Development, Jane Lv.
Xinertel is further expanding its offering and value to customers to ensure the robustness, scalability and overall performance of their products and services despite addressing ever evolving and complex testing needs of small to large Enterprises, Government Agencies, Network Equipment Manufacturers and Telecom Operators.
For more information about Xinertel
Visit: https://www.xinertel.net/
For Sales: sales@ATxTel.com
About Xinertel
Xinertel, established in 2007, is a trusted test and measurement leader recognized for innovative solutions that optimize performance, improve quality, and ensure the deployment of emerging network products and technologies. Xinertel provides functional and high-scale Layer 2-7 test solutions for leading Enterprises, Equipment Manufacturers, Service and Cloud Providers, Telecom Operators and Government agencies for the design and verification of telecommunication devices and network infrastructures. Our solutions are tailored for high-speed advanced ethernet testing covering switches, routers, applications, security, environmental, telecom carrier networks, industrial networks etc.